New Student? Secure Your Lesson Time!
Solid instruction on violin and viola for students of all ages and ability levels.
Emily is an accomplished violinist and passionate teacher.
"I believe one of the great benefits of quality instruction is the opportunity it gives students to follow their love for music wherever it may take them. Because I had parents and music teachers dedicated to my musical development I am now able to do what I love every day: play and teach!"

- Emily Williams
Violinist
I love to play orchestral, chamber and solo music of all kinds. Please enjoy these audio samples of some of my playing. (more about me…)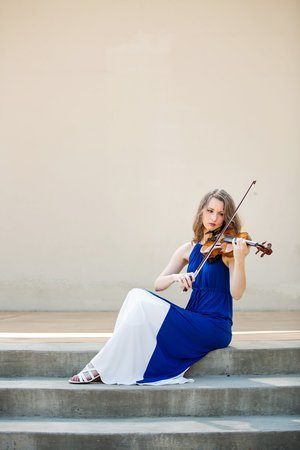 Solo Violin Music
Classical
Pablo de Sarasate: Zigeunerweisen
Antonio Vivaldi: Trio Sonata Op. 1 No. 6 (Rv. 62)
Benjamin Williams: Sonata in E, III. Moderately
Benjamin Williams: The Incarnate Word (with Mississippi College Singers)
Jazz/Pop
Rodgers/Hammerstein: My Favorite Things (with improvisation)
Chick Corea: Spain
Five for Fighting: 100 Years
The Mockingbird Trio
This classical piano trio performs music of all eras at various venues in the Clinton/Jackson Metro Area. Its members include Emily Williams (violin), Bennet Randman (cello), and Benjamin Williams (piano).
Mozart: Piano Trio in G Major, K.564
Emily is also a member of the Mississippi Symphony Orchestra and the Marta Szlubowska Ensemble. (more on performing groups…)
Teacher
I have a heart for private lessons and providing a solid musical foundation for students of all ages and ability levels. Here is one of my students after just 6 months of lessons. (more on lessons…)