Teaching Method
Method
I do not teach any pre-organized method. My teaching style is catered toward each individual student, and I use a variety of method books (e.g., Suzuki), scale books, etude books and repertoire materials and my own teaching materials. I have also self-published a method book, The Beginning Violinist, to supplement the music books available on the market, on which I collaborated with my husband (composer, Benjamin Williams).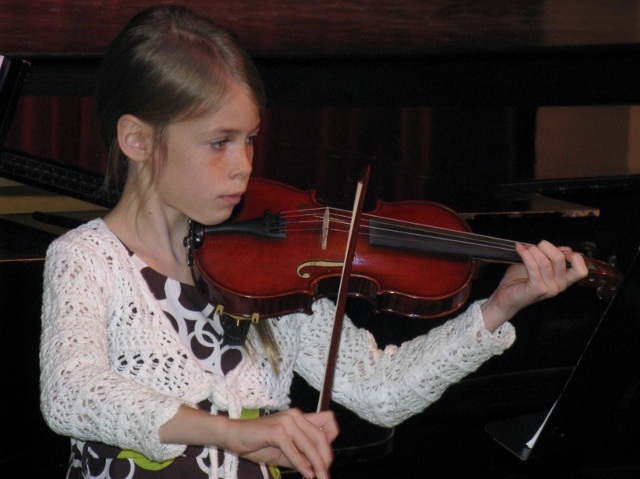 Julia
Philosophy of Teaching
Natural talent, dedication and hard work all play a role in any student succeeding at an instrument, but I believe dedication and hard work to be the most defining factors. This is why I do not audition students, but take all students who are committed to putting in the hard work it takes to learn.
I believe each student comes to me with specific needs, talents and goals. I see my students as individuals and strive to create a logical progression of material for each student as it pertains to these three factors. While doing this, I maintain the importance of teaching all my students correct technique, musicianship skills, and the ability to read music and understand music as a whole. Each student will study scales, etudes and repertoire in a way that contributes to both these end goals.
Developing the whole musician from the start is key to providing quality instruction and allows my students to progress successfully. Without a comprehensive approach to music, students will eventually be held back by underdeveloped areas in their abilities. I seek to save my students from the rigorous and daunting task of undoing bad habits later in their musical education by keeping abreast of each student as a whole musician right from their first lesson.
I also believe that students who have not had this instruction from the start can still succeed. I have a desire to help students who have not had the advantage of quality teaching in one or more areas, to overcome their weaknesses and turn these weaknesses into strengths. With dedication and hard work each student can succeed!
My Goals
To provide solid instruction—students of all levels will study scales, etudes and repertoire. They will learn correct technique, musicality, how to read music and music theory.
To cater lessons to each student—each student comes to me with different experiences and goals and therefore requires a unique plan to foster their growth as a musician.
To give my students the tools they need to be successful—a solid foundation is the best start for enjoyment and success in music because students of all levels know they can do it!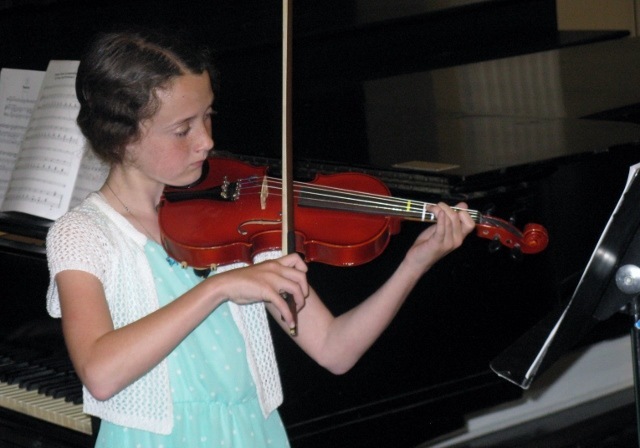 Abby
Why Take Lessons?
1. Music lessons are essential to playing an instrument well.
The ability to play an instrument cannot be self-taught.
Students gain direct access to their problems and solutions to those problems through one-on-one instruction.
Students taking private lessons will be able to contribute more to their school music programs.
A private instructor will be able to teach students how to practice correctly and be most productive in their practicing.
Lessons help stop and correct bad habits early on before they become big problems.
A private instructor can give students the skills they need to enjoy music into adulthood.
2. School instruction is not enough.
Due to time restraints students often receive little to no one-on-one time with music faculty.
Students need one-on-one time to continue building on the good techniques that are initially taught in school.
The amount of class time students receive in school music programs is not enough to learn an instrument.
It is best to start lessons earlier (age 4+) than when schools make strings classes available.
Music faculty in schools often do not have the time to make sure students learn good practice habits and efficient use of practice time.
Without one-on-one attention students are prone to bad habits which take twice as long to correct and lead to frustration
School teachers and string classes alone cannot prepare students to study music as a career.
3. Private lessons help foster success in other areas of life.
Becoming skilled at an instrument gives students confidence and a sense of accomplishment in life not offered by other disciplines.
Studies have shown a link between music and a student's performance in other areas of study:

Music students have higher test scores and IQs
Music promotes creativity
Music aids in student's success in other fields of study
Music promotes self-sufficiency as an adult
Music students have decreased disciplinary problems
Music aids in giving students' problem solving techniques
Music provides a healthy and unique atmosphere for making and keeping friends

Music gives students the ability to express their emotions in a healthy way.
Studies show that the ability to perform complex rhythms allow students to make faster and more precise corrections in many academic and physical situations.
Music lessons have proven beneficial for helping students with learning disabilities such as dyslexia.
Lesson and opportunities to perform teach students to conquer fear.
Why My Studio?
1. I teach students of all ages and ability levels.
Many teachers with post-graduate degrees only teach more advanced students. Because I teach students of all ages and ability levels younger students receive excellent instruction from the start and the opportunity to continue lessons all the way through advanced playing. Advanced students have access to a wealth of experience and knowledge about the field of music, and as a college instructor I can prepare students for college auditions or scholarship opportunities.
2. I can take the "less than perfect" player wherever they want to go in music.
As a "less than perfect" player who had to be disciplined and work hard to correct bad habits and learn new techniques I enjoy working with all my students to help them achieve goals they never thought possible.
3. Lessons are catered to each individual student's needs.
I believe each student comes to me with different experiences and goals and therefore requires a unique plan to foster their growth as a musician. While there are certain techniques and requirements to play the violin or viola well these skills can be learned a variety of ways using numerous musical styles. I like to learn what makes each student excited about music and use this to keep them engaged in learning.
4. I provide opportunities for my students to perform.
Performing on an instrument is an important part of the learning process and often one of the most feared. As a sufferer of performance anxiety myself I understand the consternation surrounding performances as well as the rewards and benefits that come from conquering these fears.
Students in my studio have the opportunity to perform in bi-annual Studio Recitals, participate in State Festivals and Competitions and attend Master Classes. Read more about these opportunities under the Recitals and Festivals portion of this page.
5. My goal as a teacher is to give students the tools they need to teach themselves.
I had a teacher who said that his job was to make himself obsolete. This is my goal as well. If I am not giving my students the skills they need to eventually be independent, self-sufficient artists than I am not doing my job. Just as parents raise their children to become independent successful adults, so I want to "raise" my students to become independent successful musicians.
6. In addition to teaching I am also an active performer.
While some teachers never play beyond the four walls of their studio, I am an active performer in the Clinton and Jackson Metro area. This gives me first-hand experience dealing with nerves, different performance venues, preparing a piece for performance, and gives me familiarity with the ever changing field of music in general. I enjoy playing both as a soloist and in ensembles. I play with the Mississippi Symphony Orchestra (Jackson, MS), am a member of the Williams Duo with my husband, and perform with the Mockingbird Trio. In addition I perform with other smaller ensembles for weddings and events and am often asked to play as a soloist in various venues throughout the Clinton and Jackson Metro areas. I also enjoy performing in my church and giving back to God the gifts he has given me.
About Me
Education
I grew up in New York on Long Island and started playing violin as a young child at 4 years of age. I was taught the Suzuki method and attended group violin classes until I began private lessons around 1st grade. It was not until late high school when I really decided I wanted to play the violin for more than just recreation. My teacher at this time was Linda Sinanian, a truly wonderful solo and chamber violinist who has also served in several orchestras. I attribute much of my growth as a violinist to her patient and thorough teaching. She prepared me and enabled me to be accepted at Cedarville University in Ohio, in the Fall of 2000. At Cedarville, I studied with Stacey Wooley, a member of the Cincinnati Symphony. Through the dedicated teachers at the University, I gained the knowledge and tools to continue my performance study at the University of Akron. Alan Bodman, concert master of the Akron Symphony Orchestra, accepted me as a student in 2005. Through his very organized and attentive coaching, I was able to improve as a violinist more than I could have ever thought possible in 2 years. I graduated with my Master of Music Degree in Violin Performance in 2007.
Résumé
Personal Life
I live in Clinton, Mississippi with my husband, Dr. Benjamin Williams, who is a composer employed at Mississippi College where he is Assistant Chair in the music department and teaches music theory and composition classes.
Aside from my musical activities, I enjoy cooking, baking, reading, swimming, playing tennis and cuddling with my three cats.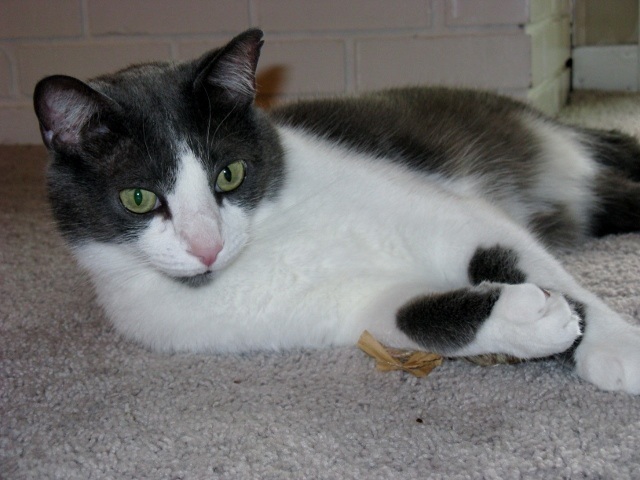 Max
My Instrument
Violin
I play on a modern instrument made by Damon Gray of Cincinnati Ohio. A Tone Award winner, 2004 Violin Society of America Competition, Gray's instruments are played by musicians in major symphony orchestras throughout the country. Completed in 2003, Gray constructed the instrument in the style of Antonio Stradivari. Gray used the traditional finely grained clear spruce for its top, but my instrument is rather unique in that instead of the usual two piece maple back, Gray chose to construct the back of one piece of yellow birch. Angled flames on its ribs instead of the traditional vertical flames also set this instrument a part.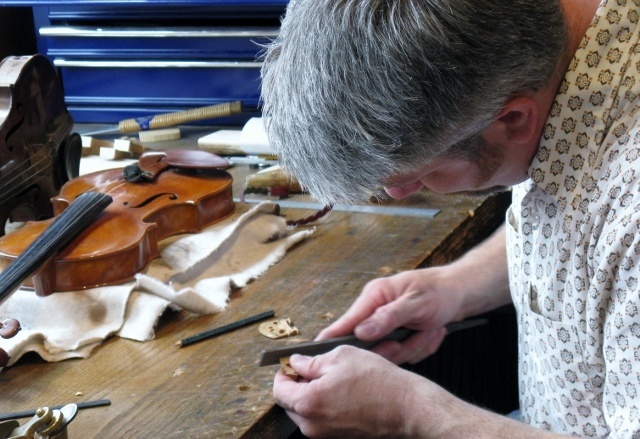 Damon Gray, Violin Maker
Read more about Damon Gray and his instruments on his website: http://damongrayviolins.com/
Bow
My bow is an original work of Williams Hill of England. Founded in 1887, W. E. Hill & Sons gained a widespread reputation for excellence. A "Hill's" Certificate of Authenticity was considered definitive worldwide throughout the firm's history and their bows in particular are still sought out by musicians world wide. The year of completion on this particular bow is unknown, but the bow is constructed of very select Pernambuco wood. The frog is ebony, lined with silver.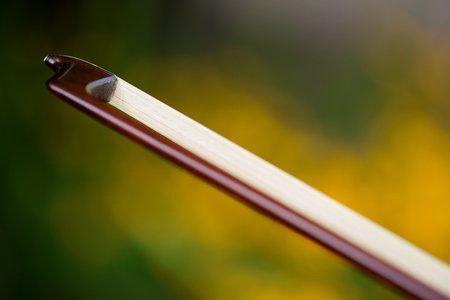 Performing Groups
Emily is an active performer in the Clinton/Jackson Metro area. She is a member of the following ensembles:
Mississippi Symphony Orchestra: The Mississippi Symphony Orchestra is the largest professional performing arts organization in the state. Between its Bravo Series, Chamber Series, Pops Series, Special Events and Educational Concerts, the orchestra performs for more than 75,000 Mississippians each year at over 120 concerts statewide. Come join us in downtown Jackson at Thalia Mara Hall for our next performance!
Marta Szlubowska Ensemble: Marta Szlubowska, concert mistress of the MSO, founded this ensemble which features her as soloist. The group performs popular, jazz, classical, polish and folk music. Their concerts are great for children and adults of all ages!
Mockingbird Trio: This classical piano trio performs music of all eras at various venues in the Clinton/Jackson Metro Area. Its members include Emily Williams (violin), Benjamin Williams (piano), and Bennet Randman (cello).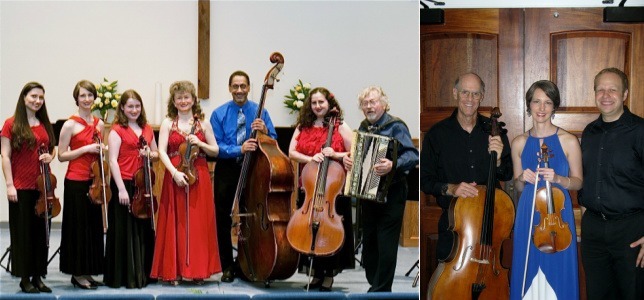 Marta Szlubowska Ensemble | Mockingbird Trio
Recitals & Festivals
Studio Recitals
I hold two recitals each year (usually in November and May) where students have the opportunity to perform. I encourage all students, children and adult to participate. The recitals are relaxed in fashion and designed to give students the opportunity to show their family and friends all their hard work!
Participation in recitals is important for several reasons:
Students have the opportunity to put their piece together with the piano accompaniment
Students gain confidence by performing in a relaxed setting
Students learn how to overcome their nerves
Students get to experience the satisfaction of a job well done for all their hard work
Students get to share their hard work with family and friends
Students get the opportunity to hear one another play, which is encouraging and motivational
Following each recital is a small reception where students can be congratulated by their family, friends, and fellow students. This is also a time for parents to mingle and get to know one another.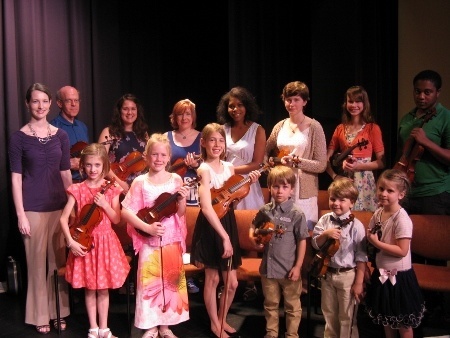 Studio Recital
A word of thanks from a parent:
"I just wanted to say thank you again for all of your work in getting the recital together. Jackson really enjoyed it and was talking about it all weekend. He actually asked me to practice Saturday and Sunday (usually it's the other way around). We are both really enjoying learning the violin and glad to have you as 'our' teacher."
State Festivals
As a member of the local MacDowell Music Club in Jackson, MS, my students have the opportunity to perform in the state music festivals. These festivals are open to students of all ages and abilities.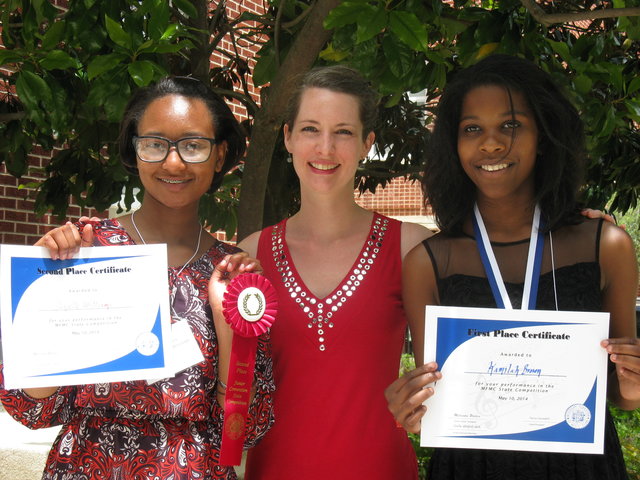 Student Awards at State Festival
Students usually perform two pieces; one from the festival list and one piece of their own choosing, both of which are prepared ahead of time with piano accompaniment (if applicable). Students are assigned a time slot for performance where they play before a judge. Students do not compete against one another. Students receive an overall grade on their performance (outstanding, excellent, good, etc.) based on the festival standards, as well as general comments (positive and negative) which they can take home with them at the conclusion of the day.
Performing in the state festivals offers students additional benefits:
Students learn how to perform in a more stressful setting
Students get to hear comments from someone other than me and their school teachers
Students get a general idea of their overall standing according to the state festival ratings
Students have the opportunity to compete against themselves and see measurable growth year to year
Master Classes
To prepare students for the state festivals and other competitions I occasionally hold a master class a week or two before the event. Traditionally master classes are an opportunity for students to perform for a "master" who will coach and teach them in front of an audience (similar to a private lesson in public). The master classes I hold are similar in idea, but smaller in scope.
Students preparing for a festival or competition will meet at my Clinton studio and will perform for one another. I let the students do most of the critiquing and comments, chiming in where necessary to facilitate and guide the discussion. Often I will ask a student to repeat a section or technique after discussion of their performance to see if they can fix one or more problems. These master classes are designed to help students in several ways:
Students get the opportunity to "see where they are" in their piece and what they need to further work on to be more thoroughly prepared to perform
The first performance of a piece is always the hardest, so students can get this out of the way in a setting where mistakes don't matter
Students receive encouragement from other students who are also preparing to perform
By having students comment on each other's performances, students learn how to critically listen and are better able to critique themselves
Students hear positive reinforcement from their peers on things they do well
Students get to know one another and can form friendships with those who share their dedication of the study of music
Here are what some of my students have said:
"You get a chance to perform in front of people before the actually event [performance]. I also like the fact that you don't have to wait an hour for comments."

- Chris
"I like getting together with the different students and learning about them. Advice from the different students was very helpful!"

- Rachel
Fees & Policies
Studio Info
I teach Monday, Tuesday, Thursday and Friday 11am–6pm, availability dependent on the day. All lessons are given out of my home studio in Clinton, Mississippi, located at 1221 Cliffdale Drive.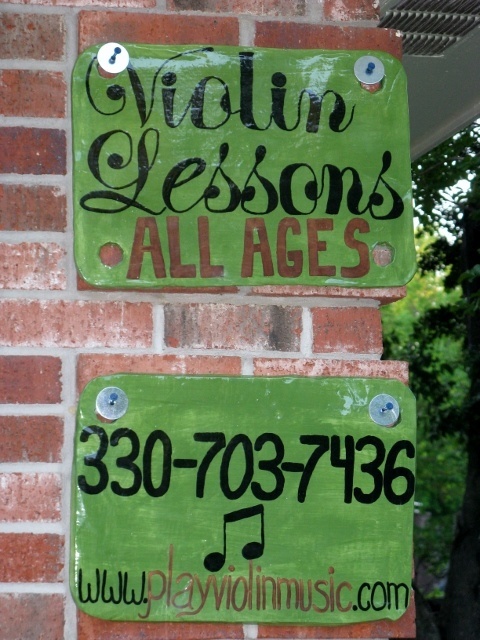 Fees & Lesson Length
The following lesson lengths are available:
½ hour lesson = $28 (4 week month = $112, 5 week month = $140)
45 min. lesson = $40 (4 week month = $160, 5 week month = $200)
1 hour lesson = $50 (4 week month = $200, 5 week month = $250)
Lesson duration is primarily determined by a student's age and ability level. Students will be expected to practice daily the duration of their weekly lesson length as a minimum.
Lesson payment is on a monthly basis due at the first lesson of each month.
Multiple Student Discount: Emily Williams offers a discounted rate to families who have 2 or more students enrolled in weekly lessons.
½ hour lesson = $25 (4 week month = $100, 5 week month = $125)
45 min. lesson = $35 (4 week month = $140, 5 week month = $170)
1 hour lesson = $45 (4 week month = $180, 5 week month = $225)
Bounced checks will incur a $10 processing fee (to cover charges by my bank).
Federation Fees: Emily Williams Violin Studio is a member of the Mississippi Federation of Music Clubs. As such, all students in Emily Williams Violin Studio benefit from automatic enrollment as Junior Members in the Mississippi Federation of Music Clubs. The federation charges an annual student fee which is divided among the students of participating teachers. It is due once a year and it will be added onto your monthly lesson fee (usually $3-$5 per student).
Recital/Master Class/Event Fees: Occasionally there will be a recital or event that requires an additional fee.
Cancellation & Rescheduling Policies
If you must reschedule your child's lesson I need to be notified within 24 hours of their scheduled lesson time. (I charge for any lessons skipped, cancelled or unable to be attended for any reason after this time period.)
Exceptions include:
If your child comes down sick the day of his/her lesson you may notify me before their schedule lesson time and reschedule your child's lesson. Lessons must be rescheduled within 2 weeks of the missed lesson, and lessons not made up will still be charged.
If inclement weather occurs the day of your child's lesson I will contact all students and give you the option of rescheduling this lesson for another day. (Lessons not made up will still be charged.)
Any lessons cancelled with more than 24 hours notice are not charged for. (The lesson fee will be credited to the next month of lessons.)
Please do not consistently cancel or reschedule lessons.
If a lesson is canceled, for whatever reason, I encourage make-up lessons (preferably the same week as the canceled lesson). It is your responsibility to schedule make-up lessons with me.
If I need to re-schedule or cancel your child's lesson I will let you know 24 hours in advance by phone or email (unless a personal emergency arises).
You may take a break from your weekly scheduled lessons at any time. However, unused lessons will not be refunded or rescheduled and your time slot will not be reserved. A break consists of anything over 4 weeks.
Holidays & Breaks
I do not follow the public school schedule of holidays and breaks. If your child does not have school they will still have their regularly scheduled lesson unless previously advised otherwise.
I take off all major holidays (Christmas, Easter and Thanksgiving.) If your child's lesson falls on one of these holidays we will reschedule it to another day of the week.
I will occasionally take an extended break (1–2 weeks) over a holiday, or for a summer break. You will be notified of this and will not be required to pay or make up any lessons for a week I am not around.
I expect students to continue lessons during the summer months. If a student decides not to take lessons during the summer any unused lessons will not be refunded or rescheduled and your time slot will not be reserved.
Lesson Preparation
I expect students to be on time for their lessons. I will not hold students over.
I expect students to be prepared for their lessons, having practiced the material given them the week before. Students should practice 6 out of the 7 days of the week.
If you are unprepared please let me know; the lesson will be much more profitable and pleasant for both of us.
If you are unprepared we may or may not use your whole lesson time.
I expect parents to take an active role in their child's lessons. This includes setting a practice time, making sure the work for the week gets accomplished, and helping your child practice as needed.
I expect students to bring their music, practice notebook and instrument to every lesson.
Young Students
1. How old does a child have to be to start lessons?
There is no set age for when a child is ready to start lessons. While I advocate starting a child as young as possible I also like to make sure a child is mature enough to begin an instrument. Here are some things to consider when determining if your child is ready to start lessons:
Does your child behave well in a classroom setting?
Can your child follow directions and respect authority figures (parents, teachers, etc.)?
Does your child have an interest in music and/or learning an instrument?
Do you and your child have room in your schedules to set aside a practice time each day?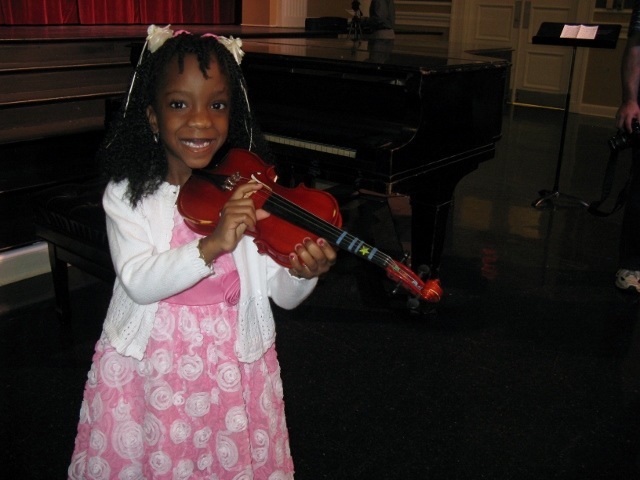 Jillian
If you answered 'yes' to the questions above, your child is most likely ready to start lessons! If you have some reservations about answering 'yes' to any of the questions let me know your concerns and I will be happy to assist you in determining if your child is ready to learn an instrument. Remember, any young child is going to have a short attention span and need direction and help in the areas above. That is all part of the learning process!
2. Are children expected to learn on their own?
No, in fact, I require that a parent be present at lessons and available to help their child practice at home. Young children need guidance and instruction every step of the way.
3. Do I need a knowledge of music to practice with my child?
No, you will learn right along with your child! During lessons you will be actively involved in taking notes and understanding what I'm teaching your child to do. I make sure you understand what your child needs to practice and how to do this effectively before you leave the lesson each week. Parents are always free and encouraged to ask questions. I think you and your child will both enjoy this learning process, and it is a great way to create a closer bond with your son or daughter!
4. How soon will my child be able to start playing music?
This all depends on the child. I place a high importance on learning how to hold the instrument and bow correctly. This comes easier to some children than to others. Students will start to pluck the strings of the instrument as soon as they can hold the instrument correctly (usually within the first 1–2 lessons). In addition to learning how to play, we will also be learning the parts of the instrument, how to read music, to clap and say rhythms, how to tune our instrument and understand our musical alphabet. There is plenty to do and your child will be playing before they know it!
5. Can I try out lessons with my child and see how they do?
Sure! I usually recommend trying lessons for a month. At the end of the month you will be able to get a feel for how your child responds to lessons, practicing and the instrument in general. I am also more than happy to give you my impressions on how your child seems to be doing and can let you know if I think they are ready to go on in their study or if they should perhaps wait a year and try again.
Still have questions or concerns? I would be happy to talk with you about your child and about the possibility of starting lessons. Please contact me at your convenience!
6. Do you offer group classes?
I do not offer group lessons but encourage students and parents to take advantage of the group activities offered in the area for strings. Use group classes or activities as opportunities for your child to use the skills they are learning on their instrument and to participate and enjoy making music with other musicians!
Adult Students
Getting Started
It's never too late to start learning the violin or viola! Whether you gave it up after finishing school and want to get back into playing, or recently developed the desire to learn to play I would encourage you to take lessons. Here are some things for you to consider as an adult:
Learning the violin or viola (at any age) is difficult. Don't be discouraged! If you have patience and the will to learn you will get there!
Taking lessons along with your child can be a great motivator for them!
Let me know why you want to play and what music you aspire to learn. Don't think you can't play the music you want to because you have to "learn how to play first." Here are some things I've had as requests in the past…

Gospel/religious music
Popular classical pieces (like you might hear at weddings)
Fiddle tunes
Christmas or other holiday music
…let me know of other requests!

Don't be afraid to participate in the recitals I hold. Many adult students feel these are just for the kids, or that they "aren't ready" yet. Here is what one adult student wrote me after participating in his first recital after less than a year of lessons:

"Thanks for performing the duet with me. Tremendous amount of positive feedback for me—much more than I deserved, but very nice. You have some amazing students."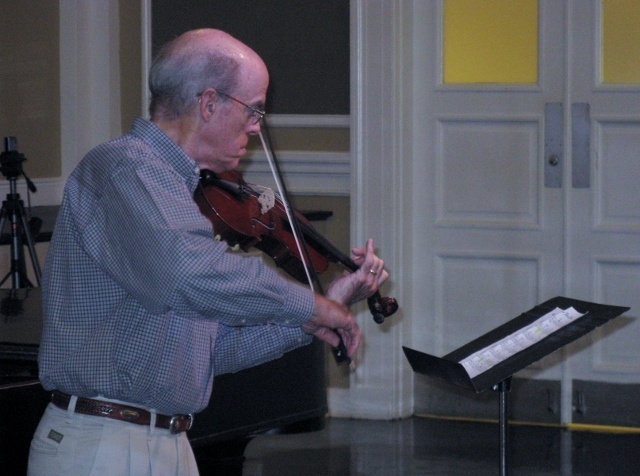 Fred, Adult Student
A Note About Practicing
Just as with anything, the more you practice the better you'll be. Set aside a duration of time and a quiet place, and look at practicing as time alone for yourself. You'll be more likely to feel relaxed and be productive if you aren't distracted by kids (or your spouse) or worried about "putting in your time." Don't look at practicing as a necessary evil to get to the point where you can play. Music is a continual learning process and a journey you will be on for as long as you decide to play. I've been playing for 20+ years and am still learning and practicing! See this as the beginning of a journey, every minute of which you are gaining skills and a greater love and appreciation for your instrument and music!
Blog Advice
I like to write and keep up a blog focused on helping students with the various aspects of the instrumental learning process. I think you may find my post on the "Advantages of Being an Adult Learner" helpful and inspiring. Check out the rest of my blog at: Emily's Musical Musings. If you would like to keep abreast of current posts as I write them please subscribe to my RSS feed, or become a fan of Emily Williams Violin Studio on Facebook where I let students know of my new posts!